I don't know why this day exists. I tried to
wikipedia it
, but I don't know what the eff 72% of those words mean. But you know what I do know? Valentine's Day is super dumb, you guys.
I'm old, boring as sh*t and married now, but I was once a young buck, and I've had kind of almost a million boyfriends. (#humblebrag)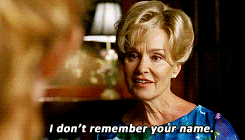 Do you know how many Valentine's Days that I actually remember? ZERO. Okay, that's a semi-lie. I remember one. When I was 14 (don't worry, it's not about to get Chris Hansen-ish), I was "hanging out"
lite
with this guy. Like, we didn't even acknowledge each other at school because he was a Senior and I was a Freshman that looked like this kind of thing:
THIS IS REAL LIFE.
You get the idea. So, it's dummy dumb idiot Valentine's Day and I get off the bus and get to my house, and there's one of those gigantic, white-teddy-bears-holding-a-heart-or-some-bullsh*t sitting on my doorstep. And somehow (I guess he called me on my rotary home phone) I found out it was from hangout homeboy:
ACTUAL DUDE.
And that was the moment that I knew that this holiday is crazy. I don't need your overpriced bear, bro. We aren't on that level, and even if we were, that sh*t was probably $57 dollars at a mall kiosk. You ripped yourself a new a-hole. I don't like flowers (I like them growing in the ground), I don't like chocolate, and I don't like jewelry. Like, tell me you like me on a random Tuesday over some cheese sticks, or something.
Why reserve that stuff for one designated day of the year? Because you know what? I love your asses every day of the mf-ing year. If I could make it rain some champs and chocolate through via the internets every day all of your faces, I would. That's the real real.
Now back to regularly scheduled b*tchery. Are you guys into V Day? VD? Vampire Diaries? Tell me your stories.
Pin It