Hey, have you heard? I have nightmarish-to-night terrorish skin. I know, I know -- my life is a dream. The upswing of my face having a permanent residence on Shitty Skin Avenue? I have learned many a tip on how to camouflage (as much as possible) a plethora of skin issues including: enlarged pores, acne scars, live-action (even cystic) acne, and discoloration of every type.
When it comes to covering not-so-great skin, you pretty much have to take mad extra steps and go balls to the wall when it comes to coverage. This ain't your best friend's sister's perfect-skinned cousin's "throw on some BB Cream and call it a day" foundation routine. This mess is INVOLVED. So maybe this is more of a "going out" type deal for you. Maybe it's an "everyday" type deal for you (ahem, me). Hey, I don't know your life.
Sit back, grab some snacks and let's delve into this novel that I call my foundation routine.
Choose Your Primer Adventure
I know that a lot of you out there aren't priming your mug pre-foundation, but I promise your ass that it makes a difference in both the smoothness of application and staying power of your face paints. There are a dumpster-load of options when it comes to the type of primer you can choose, but I've found the best kind for each skin-type because MY SKIN HAS BEEN ALL THINGS. This is my real and actual life.
Oily Skin:
I have used this primer method on and off for years and years, although it's a smidge unconventional. I'm talking using a powder as primer for oily skin. I know this sounds weird as eff, but when I lived in so-humid-you-want-to-cry-then-die Florida, this worked really well for me because my skin was BEYOND CRAZY OILY. I've also found it to work way better than f'real primers for oily skin, which usual end up giving you splotchy and unfortunate foundation situations.
Here's what you do -- apply a powder (translucent if you want less coverage, powder with actual color if you want more) to your face with a fluffy brush before you apply your liquid foundation. That's it. If you have places on your face that have heavy discoloration/need a ton of covering, use a sponge to add more product to those specific areas. This method can have a tendency for more cake-faced instances if you get like Goldie Hawn and go overboard, so just don't get too, too crazy with it.
Normal Skin:
Normal skin can really get away with just about anything, but I have really been enamored as eff with the easiness and lightness of
Skindinavia's Primer Spray ($35)
. I've already
reviewed
this, so I'll keep this shit short. It still does a great
jobby job
of priming, but feels zero percent gross on your mug. But instead of spritzing it directly on my face, I've taken to doing two sprays into my palm and applying it to my face with my hands. That way I'm in control, like Janet Jackson in this b.
Dry Skin:
If you have dry skin, primer is a great way to give your face extra smoothness and to seal in moisture. I wanted to tell you about how much I love the Victoria's Secret Primer above, but they discontinued it, so bump that, I guess. Whatever, use a damn primer. You'll love your foundation way more, I promise.
Bonus Tip:
If large pores are an issue for you, use a pore-minimizing balm like
Benefit POREfessional ($31)
to minimize those mofos after applying your primer of choice. (Unless you're doing the powder primer method. In that case, do it before.)
Cover All The Bases
So this shit ain't rocket science -- if you want more coverage on your problematic skin, choose a fuller coverage foundation. My foundation trial portfolio is strong-to-quite strong, so I can help you narrow down the craziness.
Oily skin should choose a liquid foundation with a matte finish. My favorites are
Rimmel Stay Matte Liquid Mousse ($5.49-ish)
for drugstore brands, and
Kat Von D Lock-It Tattoo Foundation ($34)
for higher-end stuffs. They both stay on forever ever (especially the KVD) and will help tell your oil glands to calm their tits for once.
Drier-skinned peeps can lean more toward the likes of
Laura Mercier Silk Creme Foundation ($45)
, which I LOVE
,
and
DERMABLEND Smooth Indulgence Foundation ($32)
. You really can't miss with any of these foundations. They all fall into the dope to bomb categories.
The Application Game
Picking a bangin' foundation isn't the only key to the flawless-ish faced kingdom. How you apply said foundation is also très important.
I love the damn
Beauty Blender ($19.95)
. I've probably talked about this baby before, but I just can't be held responsible for my repetitions. It's great for blending (doy) foundation, and leaves your skin with a great finish. But for times when I want more foundation with my foundation, I prefer using my
IT Cosmetics Flat Top Buffing Foundation Brush ($48)
. This thing is expensive, but it's a bad b. It allows for fuller, yet super-even coverage.
Conceal Your Deal
After foundation times have come upon your face it's time to conceal. You might have to work on that under-eye area, or maybe you still have some blemishes and whatnot to cover. My favorites for these jobs are
Sonia Kashuk Hidden Agenda Concealer Palette ($10.49)
for drugstore, and
Amazing Cosmetics Concealer ($42)
for that spendy spendy. I like to apply either with a fingertip, because the body heat from skin really blends the concealer. (That was an overtly sexual-sounding sentence. Avert your eyes, minors.)
Stop...Powder Time!
The time has come to powder your nose (and everything else). Once again, you have a few different paths you can choose, depending on the level of coverage you require. If you don't need any more, just brush on a translucent powder.
NARS

Light Reflecting Loose Setting Powder ($35)
is my favorite, but do your thang with whatever.
If you want a touch more coverage, go for a lighter mineral powder like
Everyday Minerals Semi-Matte Base ($14)
. It's not completely matte, so you won't have a crazy plastic android face.
I, on the other hand, want coverage that rivals the Phantom of the Opera's mask, so I'm obsessed with
Kat Von D

Lock-It Powder Foundation ($34)
for topping off my foundation. Just make sure to apply it with a fluffy brush and not a sponge, or your mug will definitely be filed under "too friggin' much, dude."
Bonus Tip:
If you suffer from uneven skin texture (that's me to the extreme, baby), avoid overly sparkly face stuffs. It draws more attention to imperfections. Trust.
Spray To Stay
Pshew, we're almost done. If you're still here, you're a ride-or-die homie. The very final step is to keep your shit in check with a setting spray. This helps your makeup last all day (especially in gross heat/humidity), and will also eliminate any George Washington's wig-like powdery look to your face.
My oily-skinned sisters, when it comes to picking a setting spray you're best off picking either
Urban Decay's De-Slick ($30)
or
Model in a Bottle OG formula ($18)
, which is my favoritest favorite. If you're more on the dry side, Model in a Bottle also makes a
Sensitive Skin Formula ($21)
that won't leave you completely parched.
Okay, okay, I'm done with my foundation yammering. I can't take any more of this.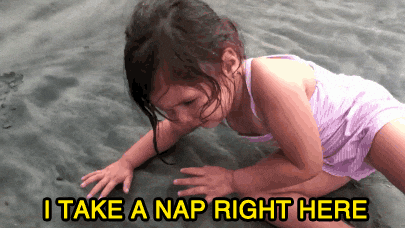 I need to take several seats followed by twenty-nine naps. At least all of your faces will look like MF-ing perfection. I can rest easy in that.
Pin It