Time for some real talk -- this post is not for a super-glammed out mug. Reference this for when your face has a haze of meh all over it, and you need to look like functioning human head. The days when you're not shooting for the stars, you're just aiming for the horizon, I guess.
Let's see what we're starting with:
Pretty, pretty, pretty blah.
And as you can see, I am the ultimate trash, because I was watching
Vanderpump Rules
in the background. Hey, Jax's fourth nose job. Thanks for being here.
Also, please ignore my overly bronzed bod. I put on self tanner and haven't washed off the color guide yet, because ultimate trash and all.
Let's ignore all that noise and working on this mug.
Let Your Brows Carry You Through the Tough Times
Take a lesson from my best friend
Britney Spears
-- having actual eyebrows on your face can make a world of difference in life. And if not life, at least your face. It brings a structure and shape to your eye like nothing else really can.
Today I used
Anastasia Dipbrow Pomade in Dark Brown
to fill these puppies in, but you can use whatever you have in you Downtown Julie Brow(n) arsenal -- eyeshadow, brow powder, pencil -- live your life. Just fill in the sparseness and bring a little more boldness to those sad sacks. If you have naturally sad sacks like I do.
Bring Some Drama Lite to Your Eyeballs
I once interviewed Trish McEvoy (#humblebrag), and
the best tip she told me was how to create the appearance of fuller lashes
by dotting eyeliner between your actual lashes on your upper lash line. As inelegant as the following sounds (surprise, surprise, coming from me), if you
lightly
smoosh a creamy eyeliner into your eyelashes, it looks like you have a billion lashes without giving the appearance of liner. It's just like, "Hey, you've you dope eyelashes. And a lot of them."
For this, I used
Eddie Funkhouser Graffiti Creme Eye Pencil
(which they sent me like a year ago and I just tried recently and love for this), but you can use anything with a creamy or gel texture. Just not a super-hard (heh) pencil. It will pull too much and not give you enough color payoff.
For the finale of your David Blaine-level lash illusion, finish up with a wiggle of mascara. I used
L'Oreal Voluminous Superstar Mascara
for this, which is one of those two-sided deals, but I just used the actual mascara side and skipped the primer side. You know I'm lazy to the bone.
One of the biggest blah-faced culprits is having a monotone-ass skin tone. It just says, "I'm on bed rest or something of that ilk," and even if you are on bed rest or something of that ilk, you don't have to look like it.
The solution to this unfortunate pallor is using a combo of bronzer and blush to create a flushed-face fake out. I'm using products from this
Too Faced Blushed & Bronzed Set
because I prefer a bronzer sans a lot of sparkle. I have shit skin and the glittery stuff brings out even more imperfections. I also think a matte bronzer looks more natural, because my skin tends not to glitter up. I don't bleed body glitter.
I'm not using these dudes to contour -- more for just a general glowiness, putting the bronzer where the sun would naturally hit you, if you went in the sun, but you don't because you're trying to stay forever young. (No? Just me?)
You can also use this combo on your eyelids to make them peepers pop even more. I didn't do this because I'm the worst, but it would have looked noice.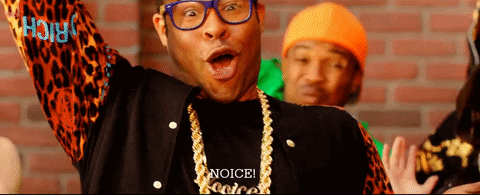 A Little Pink-ed Out Lip
A pink lip is complementary as hell to a human being's complexion. It's like taking that whole "your lips but better" idea and kicking that shit up 12 notches. Roughly. It just makes you look alive, man.
I'm using the
Sephora Collection Rouge Infusion Lip Stain in Peony
that I got in the
Sephora Give Me Some Lip
set, which I am currently super into. It's like a appetizer sampler that features really bacon-y apps. It's delicious.
This is labeled a lip stain, but it's kind of like a long-wear lipstick that FADES INTO A LIP STAIN. It's MF-ing magic.
The before is like, "Someone create a Kickstarter for this Silly Putty face." After is like, "Okay, that's a human being and I think they're alive." Upgrade!
That's the end???
Yes.
Pin It