Life is hard, man. Sometimes you see a sexy mofo, you want to look at them, but you don't know the appropriate length of time that you can thrust your eyeballs upon them. If only there was some kind of ruuuuuuule...Sweet Jesus' Birkenstocks.
This video raises so many questions in my
mind grapes
. Who the eff are the backup singers on this track? Muppets? Demons from
The Labyrinth
? Why is there a creepy, disembodied, old-timey lady's outfit posted up in the corner of the classroom? Is this some kind of historical monument that homegirl is sanging all over? WHAT THE F*CK IS GOING ON AFTER THE 2:30 MARK? No, seriously, what the eff is that? Why is she squatting? Is she having stomach pains? Did she just run really far? I'm not really sure how to live my life from here.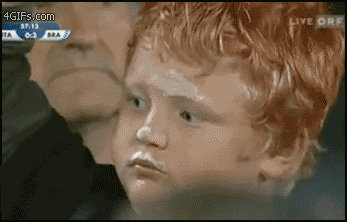 Has there ever been anything more awkward than this video?
Oh, yeah.
Pin It