It should come as no surprise that I basically base all my life choices on pop culture.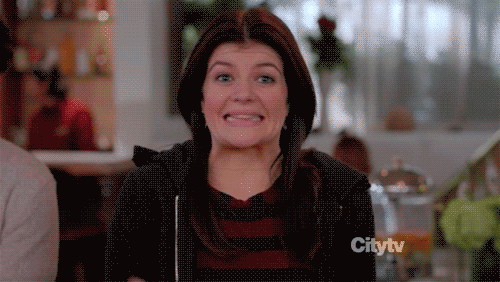 What should I eat for dinner? Chinese takeout, care of
SATC's
Miranda Hobbes. What should I watch right now? Reruns of
Malibu Country
, courtesy of Heather/Gretchen/Alexis on
Real Housewives of Orange County.
What should I NOT do with my life? Murder people, thanks to every episode of every show I've seen at least thirty-seven times on Discovery ID, or Investigation Discovery. (Side note: WHAT IS THE OFFICIAL NAME OF THIS CHANNEL? I watch it 90% of my life, and it's still unclear to me.)
Then, naturally, the lipstick I wear is based directly upon what the eff I'm listening to. Here's a cosmetic-filled road map to it all.
Robert Palmer - Addicted to Love

This is probably the most obvious link between lips and music videos that ever existed. "Addicted to Love" is basically a lipstick-and-legs commercial, with a dash of LA Looks hair gel thrown into the mix. X-TREME hold.

If this video doesn't make your heart skip several beats over that bold-ass red lip, you can take your not-scarlet-y lips have several seats.


This ColourPop Lippie Sitx in Bichette (
$5, ColourPop) is almost a match made in classic-red-lipped heaven with this Robert Palmer jam. Just with a smidge less shine. Might as well face it, this lipstick is the shit. And it costs $5.
Aqua - Barbie Girl

Okay, okay, this song and video are more annoying than watching episodes of Everybody Loves Raymond and then Coach with your dad, but the '90s were annoying. They just were.


Similarly, this NYX Cosmetics Matte Lipstick in Shocking Pink (
$5.99, Ulta) is annoyingly bright, but in the most complementary sense of the word. Plus, it's pretty much the exact shade of pink (with a touch lilac) as the convertible in the video. Hate the song, not the lip, H8RZ.
Britney Spears - Oops!...I Did It Again

Other than Brit's acting chops (AKA "the old lady dropping it into the ocean at the end"), this video lived and died with that red pleather jumpsuit.
This tarte LipSurgence lip gloss in natural beauty (
$19, tarte) is the reddest and glossiest thing I have in my lip arsenal, but I still don't think it does Britney's getup the SHINE and RED justice it truly deserves. Awww, you shouldn't have...OOPS, I...Maybe next time.
Alanis Morrisette - Thank U

"Thank U" is no "You Oughta Know," because there can never be enough songs about allegedly fellating Dave Coulier in a movie theater, but it's the most naked music video that came to mind.
Nude lipstick is notoriously difficult, because everyone has a different skin tone and desired level of opaque-ness, but this NYX Cosmetics Soft Matte Lip Cream in London (
$5.99, Ulta) is a beige-y dream in a tube. It's like an impenetrable pair of L'eggs hosiery: all vaguely tan with zero shine. But, you know, sexy.
UB40 - Red Red Wine

Real talk -- I hate this GD song -- I really just wanted to talk about the magic of this kind-of-lipstick lipstick.



If you've ever wanted the color of a wined-out lip stain, but the moisture of a
lip chap, Clinique Almost Lipstick in Black Honey (Clinique, $17) will be your all-marshmallow box o' Lucky Charms. It's the perfect blackberry jam lite color, and if I wasn't disgusted by the word creamy, I would almost say it's creamy (BLEH BLEH BLEH). It's gel-y? Jelly? I don't know; it's fantastic.
Pin It