It's no secret (or it shouldn't be if people are honest) that one of the boss b*tch things about blogging about beauty stuffs is that you get to try products and such for free a lot. I always tell your asses when this happens, and I only talk about sh*t that I legit like and would feel good about telling you to try. I would never suggest something that I think is actual sh*t, because I would feel like a big old bag o' asses doing that. I have sent many, many a email to peeps saying that I won't review/talk about their product because it didn't work for me, or I wouldn't use it on the reg.
That being said, I'm pretty comfortable with using a variety of products at any given time, and just snatching up whatever is in my beauty arsenal. There are a veritable sh*t-ton of shampoos, eyeliners, mascaras, lipsticks, blah, blah, blah, that are all perfectly great, and that I can use without issue and enjoy them all. But, there are a few beauty items that I just simply won't live my life without, and will find a way to own, always. You've probably heard me talk about most of these one billion times because, uh, I tell you everything. So, don't slap my face off or anything if some of this sounds redundant.
#1. Maybelline Expert Eyes Twin Brow & Eye Pencils in Blonde
Go ahead, release all of your "DUHHHHs" into the universe, because I'm always talking about these thangs. But when it comes to eyebrow pencils, I will never, ever, ever let these
Maybelline Expert Eyes Brow Pencils in blonde
go. And not in a half-assed, hold-on-for-14-more-seconds-Rose kind of way.
These mofos cost around $3, depending on where you buy your mess, but are worth even more to me than Brenda Walsh's b*tchiness. They have actual staying power, aren't waxy, and are a great ashy color that works for any brow color. (Ladies with darker skin tones, or want a bolder brow, top the pencil with a darker brow or matte eyeshadow color.)
#2. Latisse
Before I started using Latisse years ago, I was really scared to try it. I had seen a lot of people that had used it and had semi-crazy spider lashes, and it was just way too much for me. But here's the real deal -- when you first start using Latisse, you use it every night until you get to the lash length that you're all about. After that, you move on to the maintenance phase, which means you just use it a few times a week to keep your lashes that length. So you're in control of how crazy-lashed you look.
Another point of contention when it comes to Latisse? Sh*t's expensive, man. The regular retail price is $120 for a bottle that is supposed to last a month. (P.S. Look for Latisse deals in your local area, you can find it much, much cheaper.) In reality, a bottle typically lasts me at least six. I can stretch that sh*t to the max by the technique that I use to apply it. If you want to know how, email me. I won't post it on the interwebs because it's slightly shady when it comes to sterility and such, and I don't want erry'body getting pink eye. But the friend that taught me this application technique is a medical aesthetician, so it's not wildly inappropriate.
You can also buy a generic version of Latisse, called Careprost, to cut down on costs. I just ordered some online, and it costs about $35 after shipping, although it might be coming from Mars for legal reasons. I'm not going to post a link to purchase it, because it is a prescription product, and I'm no legal effin' eagle...
and I don't want to go to jail and sh*t for recommending something semi-illegal. It's probably not 100% legit, but I'm not sure. Google at your own risk.
#3. Beauty Blender
Because my skin is a big ol' pile of poo, covering imperfections with foundation/concealer ranks high on my list of beauty priorities. I don't really remember my life before using the
Beauty Blender
, but it was probably also a pile of poo. Okay, enough about poo.
If you aren't that familiar with this little pink egg, it's a reusable makeup sponge that you use while damp. It's kind of pricey (like $20 per sponge), but they really last forever if you wash it on the reg. I've tried other cheaper brands that are of a similar idea, but none stack up to this little b*tch. It applies foundations and concealers evenly, and prevents your makeup from looking cakey. This just generally prevents the look of hot messiness on your mug.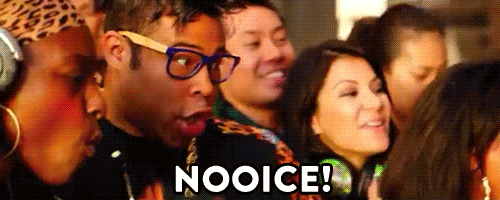 #4. Clarisonic Mia
Listen, I know that Clarisonic products aren't cheap. But I got my
Mia
as a gift from my mom over three years ago, and homie is still going strong, so it's not a bad investment for $100. The only differences in the MIA and the full-sized (AKA more expensive) Clarisonics are the lack of ability to change the brush speed and you can't use a body brush on the OG Mia. No biggie smalls.
There are drugstore brands of face brushes out there, but I have to admit that I've never used them. The big difference is that the drugstore brushes have spinning heads, while the Clarisonic uses sonic vibrations to cleanse the skin. If you want more science-y deets, you can read more
here
. All I know is that if I go on an absent-minded bender and forget to use this baby for a period of time my skin is like, "What the eff, guess I'll just break out even more now. You're welcome." My skin is an a-hole, part 40938.
#5. Urban Decay Eyeshadow Primer Potion
Are you guys sick of me talking about PP yet? TOO BAD. I recommend this product to literally every single person I've ever talked to about makeup, both in real life and on the 'net. It makes your eyeshadow last all damn day, makes colors more vibrant, and doesn't allow those sneaky eyeshadow bastards to crease and get crazy.
Whenever I recommend Primer Potion I have people tell me that it's just too expensive for them, which I totally understand. Spending $20 on something that seems so unimportant in the scheme of things is tough to do. There are a couple of options on saving some dough on PP. You can always
buy the travel size
for $12. Because you use such a tiny amount, this baby-sized tube should still last you a really long time.
I also frequently find Primer Potion at places like Nordstrom Rack on discount, because Urban Decay changed the packaging a while back. So you can feel free to stock up on the old package types, and hoard the hell out of them. I SHALL NEVER RUN OUT. Muahahaha!
What beauty products do you guys refuse to live your lives without? Spill yo' sh*t!
Pin It