I went on a trip this past weekend, because I'm a baller (I'm totally not), and I was reminded just how much it sucks to travel when it comes to beauty products. My husband was all, "We'll only be gone a couple days, let's just do carry on luggage." He promptly got this reaction:
Mens (and parents -- thanks Fresh Prince) just don't understand. You can't do carry on, because you're limited to like 1.5 liquid items, or whatever, and they have to be -0.9238438 oz or something and fit in a plastic bag the size of a thimble. (I'm not googling that info. Lazy ride or die, all day, 'err day.) My husband acted like I was crazy in the brains, because b uses a bar of Irish Spring and ish as his only beauty item. Whatevs, I'm high maintenance...Have we met?
So, I'm back, and thinking about what I SHOULD have brought with me.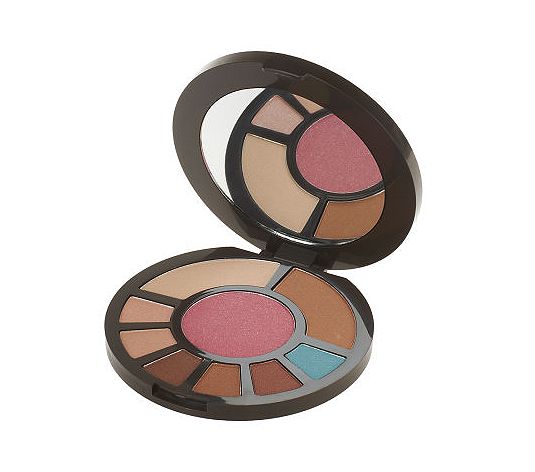 My Mom just gave me this badass Romancing the Glow palette from tarte. (
QVC, for $39.98
) It's a perfect traveler -- not this kind, but still:
But it's got six eyeshadow shades, a big blush, bronzer, and a highlighter. Plus, it's got the amazonian clay goodness in it, mmmkay? My mom totally gets me.
I also did not bring my L'Oreal EverCreme Cleansing Conditioner (
Amazon, about $6
), even though it would have saved me a lot of space in my suitcase. My head is mostly used for a hat rack. What can I say? I love this ish, and it has one of those pumps on top that lock, so it's pretty spill-proof.
Urban Decay's 24/7 Eye Pencil in Perversion (
Sephora, $19
) is pretty, pretty good. It stays the hell on, through A LOT, including falling asleep on your seat neighbor's shoulder on the plane (all without smearing). And it's as black tar! (Which is a good thing, if you're wondering.) My only complaint on this b is that I wish it was not a pencil you had to sharpen. Make it in a click-up pencil. I beg of you!
Those are my picks for travel! (Still going to check my bags, I'm not a vagrant.)
Do you guys have any travel favorites? Share with a b!
Pin It