There are days when your lips are all, "FEED ME (MOISTURE), SEYMOUR," and you slather the hell out of your lips with the glossiest gloss that's ever glossed. Then there are the times that you crave a lasting color on your lips that won't fade away like the hotness of the dudes in Color Me Badd. Group B, this is for you.
Don't even worry, there's no need for you to go out and buy a long-last lipstick for all of that, Jazzy Jeff. There are some easy steps you can take to get that long-ass lip wear without spending one more penny on another lip product.
1. Line Time, All the Time.
You'll start by lining your lips, but not in a brown-liner-on-the-periphery-and-wait-for-the-white-frosted-lipstick kind of way that you might think of when I say lip liner. I'm talking all over your damn lips, like you're using a Barbie-sized lipstick.
This works like a primer for your lip, and just gets the shit you're about to apply to stick like an Elmer's glue stick for your ass. I will almost always use a nude-colored liner, regardless of the lip color I'm going to apply, but if you want the shade to stay vibrant as eff, line with a similar-to-the-lipstick color.
2. Skip the Gloss, Boss.
Listen, I love lip gloss as much as the next Mariah Carey impersonator (this is just an assumption), but gloss sucks when it comes to staying power. You can quite literally kiss that shit goodbye after one sip from your constant companion, AKA your wine glass.
Instead, use a lipstick for lasting color. Matte finishes last the longest, but I actually picked a pretty moisturizing shade (CoverGirl Lip Perfection Lipstick in Spellbound) for this, just to prove you don't have to use something that will suck all the moisture out of your mouth to get this hootenanny to work. Live your life -- you know how I do.
3. Do It Powdered Doughnut Style.
The last step in the game is to grab a separated tissue or that really thin and shitty two-ply toilet paper and put it over your freshly-painted lips. Apply a translucent powder over the tissue/TP/whatever you want, using a puff or a powder brush.
The powder will soak up a little of the oiliness of the lipstick and get that shit to stay like Lisa Loeb, without any of the drying or discomfort of a long-wear lipstick. Now you're free to go do your damn thing, without that c-block of a faded an uneven lipstick situation.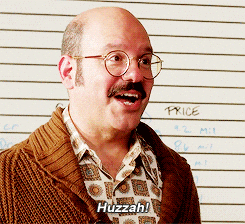 Watch out mouth, here comes wine.
Pin It