Have you b's heard the good word? I'm kind of trashy.
actual comment about me to prove said trash bag-ness
But you know what? Being trashy is a fun way to live life IN THIS MOTHER, so suck it, world. And just in case you feel like getting on some next level non-classy sh*t, here's how you can get like me (at least this week).
#1 Drink Cheap(ish) Wine.
jam jar sweet shiraz, $9.99 at whole foods, but check yo' ish
You guys, I love this wine more than most things that currently exist on this earth. I originally picked it up from Whole Foods just because the bottle is super adorable and actually jam jar-looking, PLUS IT HAS A SCREW TOP, which lends itself to my lazy and drink-y lifestyle. Freakin' major points on that sh*t.
Once I actually consumed this affordable nectar of the Gods, I was all in. It's kind of sweet, but not in a over-the-top way.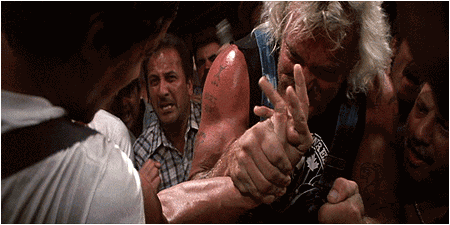 Try it. It's like $10-$12 most places, so re-gift it (to me) if you hate it (I hate you if you do), and you aren't out a bajillion bucks, man.
#2 Hermit Yourself Up In Your House And Watch A Show Featuring Badasses, Until You Think You're A Badass. featuring lots of hot backs and other parts
I've barely tended to basic ass hygiene this week (even more so than the usual), and I blame it all on
Sons of Anarchy
. I'm been binge watching the ish out of this show, and
I show no signs of slowing
.
my favorite dudes of SOA, opie & tig
One of the reasons for my can't stop, won't stop
SOA
viewing is for the dudes. I'm doing it all for the pseudo nookie, I guess. I know that most homegirls' lady flower tizzies are for the main guy
Charlie Hunnam
, and don't get me wrong, he's hot. BUT, I'm way more into the secondary hot mens like Ryan Hurst (Opie) and Kim Coates (Tig). What can I say? You guys know I'm into the "
off the beaten path
" when it comes to man crush feelings.
P.S. If you are a dumb dumb head like me and haven't yet watched this show, get on that sh*t, you silly mofo.
P.P.S. If you're current on episodes, DON'T YOU DARE TELL ME WHAT THE EFF IS UP WITH THESE TWO. (Although I've gotten a hint of Opie spoilers, and I am not happy.)
#3 Buy And Wear Clothes Inspired By (Male) Characters Of Said Show.
flannel and beanie, target, boots, nordstrom
See above, and you can see why I'm currently dressing like a grungy motorcycle dude. My obsessions run deep. I got these Steve Madden "Leader" boots from
Nordstrom
during their big ass sale deal (not the actual name of the sale) a couple of months ago, and I wear the sh*t out of them -- pretty much on the daily. The flannel and beanie can be copped from Target on the cheap, although I couldn't find them online.
denim vest, h&m, faux leather vest, f21
And every lady-type biker man needs some vests, obviously. The acid wash denim is from H&M a few months ago (
similar one here
), and the studded fake leather deal is from
Forever 21
. Thankfully, my ass is clipped to the brim with weave, or I would be constantly mistaken for a boy.
#4 Same Damn Makeup, Different Damn Day.
marc jacobs eyes, urban decay lip
I've been in a major makeup rut lately, and have pretty much been switching up my beauty looks 0% of the time. But I really give zero effs, because I'm totally into it. I've been all about a baby liquid liner cat eye paired with a bold lip, usually the
MAC RuPaul Viva Glam
goodness I told you about the other day, or this
Urban Decay Revolution Lipstick in Shame
that I recently bought.
It photographed weirdly light, but it's super sumptuous and creamy as f*ck, as well as deep and gorgeous. (That sounded really romance novel-y, but I didn't even say throbbing.) I've also been using the new
Marc Jacobs eye palette and liner
that I bought at the same time, but I'll talk about that another day. I don't give it up all at once. I'm a damn lady.
#5 Watch Britney's New Music Video On Repeat.
The first time that I heard Brit Brit's new song, I left super "meeeh" about it. But, of course, that sh*t completely grew on me and once I peeped that video scene, I was totally into it. I can't help it, when Britney does that dumb Madonna-esque fake British accent, I lose my ish. Viva la Britney, b*tch. Gimme, gimme more.
Okay, okay, I'm done. What trashy ass tendencies do you guys have? I know you're out there, don't leave a b hanging.
Pin It