Some days you just have a case of ye olde blah face. Whether you're feeling half shitty, tired, or just can't find any effs to gives towards trying -- we've all been there, sister. It happens.
I'm meh-faced and I know it.
Luckily, there is an easy cure-all for this dreadful affliction, and it takes the absolute minimal time and effort, because you know how I do. I'm talking about getting fancy with yourself and using a bold lipstick. I know that there are still some of you out there that are all, "I just can't do a bright/dark/whatever lip colors." I SEE YOU, AND YES, YOU CAN.
Are there rules and shit about picking cool-toned lipsticks if you're a cool-skinned person, and all of that hootenanny? Yeah, sure, whatever. But who cares? That's boring. All you really need is a "Bitch, I look good" attitude adjustment, and you can wear whatever the hell makeup item that you're into at that exact second.

With that in mind, here are some of my ride-or-die lipsticks in various shades that are sure to cure boring face in under ten seconds flat. (TIME ME, MOFOs.)
I wasn't lying when
I told you I wasn't giving up bright lipsticks anytime soon
. In fact, I bought this lipstick after I wrote that post. Screw you, Fall stereotypes!
If you fancy yourself a real girly girl, fuchsia might be the perfect gateway lipstick to jump off your bold lip kick. And if you have a darker skin tone, THIS NEEDS TO BE YOUR SHIT.
Let's be real -- red lips are the training wheels of bold and bangin' lipsticks. NOT THAT THERE'S ANYTHING WRONG WITH THAT.
I love red lipstick, and absolutely every pair of lips attached to a face can pull it off. If you're one of those homies that I referenced who are still scared to get crazy with your lipstick, this puppy is for you.
My husband just saw me working on this and said, "That lipstick is too crazy," re: this picture. (For reference, he said the red lipstick picture looked "normal.") So, now we're getting divorced. JK.
Orange-y lipsticks are definitely on the more adventurous side of the tracks. Like, where people that think a meal consisting of chips and wine are a more than adequate dinner live. I live there. Join me. It's fun (and apparently crazy) here.
Don't get it twisted, I'm not exclusively about that bright lip game. Dark lips are equally dope. In fact, being the moody brooder that I am, deep berry lipsticks probably match my personality best. But I also like unicorns and mermaids and such, so....you see why the shades are vast and varied here.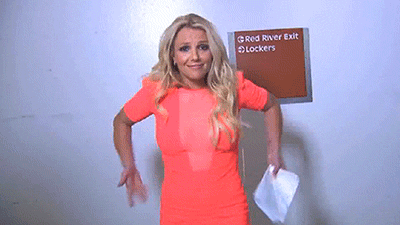 Okay, I'm 100% sick of looking at my own damn mug, so I'm wrapping it up. What bold-to-death lipstick shades are you into? Tell me in the comments. Or maybe even upload a picture of YOUR beautiful mug. I WANT TO SEE ALL THE THINGS.
Pin It